Luxury toilet hire
We believe that mobile toilets should offer "all the comforts of home" and make your guests feel like VIPs.
We have a huge range of Luxury toilets for hire. We manufacture and design our own units, so our fleet always has the latest technology and designs.
Please use our quick sizer below to choose a unit for your event
Size>>Up to 100 peopleUp to 175 peopleUp to 250 peopleUp to 300 peopleRequest a quote

---
Event 100
100 people over an 8 hour event

A completely self-contained luxury 1+1 toilet unit. Comprising of 1 ladies compartment and 1 gents compartment, with separate vanity areas.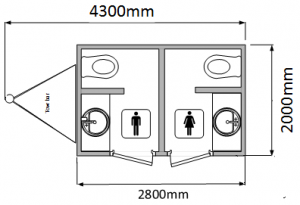 • Height: 3.05m
• Capacity:175 people over an 8 hr event
• Skirts: Supplied with matching skirts.
• Aliminium steps: allow 1m
• CD Player included
Only requires a standard mains power supply. (25m extension cord supplied)
---
Event 175
175 people over an 8 hour event

A completely self-contained re-circulating, Luxury toilet trailer unit comprising 2 ladies cubicles, 1 gent's cubicle and 2 urinals
Modern bright interior with oak cabinets, black marble-effect worktops, large mirrors and LED down lighters + Chrome taps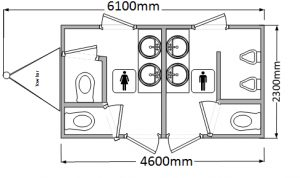 • Height: 3.05m
• Capacity:175 people over an 8 hr event
• Skirts: Supplied with matching skirts.
• Aliminium steps: allow 1m
• CD Player included
Only requires a standard mains power supply. (25m extension cord supplied)


---
Event 250
250 people over an 8 hour event

A completely self-contained re-circulating, Luxury toilet trailer unit comprising 3 ladies cubicles, 1 gent's cubicle and 3 urinals
Modern bright interior with oak cabinets, black marble-effect worktops, large mirrors and LED down lighters + Chrome taps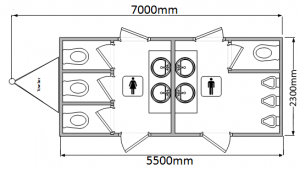 • Height: 3.05m
• Capacity:250 people over an 8 hr event
• Skirts: Supplied with matching skirts.
• Aliminium steps: allow 1m
• CD Player included

Only requires a standard mains power supply. (25m extension cord supplied)

---
Event 300
300 people over an 8 hour event


A completely self-contained re-circulating, Luxury toilet trailer unit comprising 4 ladies cubicles, 1 gent's cubicle and 3 urinals
Modern bright interior with oak cabinets, black marble-effect worktops, large mirrors and LED down lighters + Chrome taps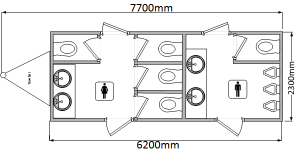 • Height: 3.05m
• Capacity:300 people over an 8 hr event
• Skirts: Supplied with matching skirts.
• Aliminium steps: allow 1m
• CD Player included
Only requires a standard mains power supply. (25m extension cord supplied)

---
Event 300 Disabled
300 people over an 8 hour event

A completely self-contained re-circulating, Luxury toilet trailer unit comprising 3 ladies cubicles, 1 gent's cubicle and 3 urinals + a separate disabled toilet with own entrance. Modern bright interior with oak cabinets, black marble-effect worktops, large mirrors and LED down lighters + Chrome taps

• Height: 3.05m • Capacity: Aprox: 300 people over an 8 hr event • Skirts: Supplied with matching skirts. • Aliminium steps: allow 1m • CD Player included
Only requires a standard mains power supply. (25m extension cord supplied)
---
Event Disabled – Baby Changer
DDA complaint compartment with baby changer Disabled trailer dimensions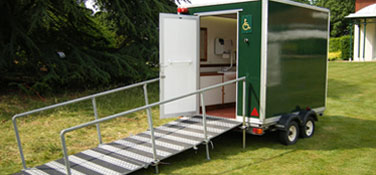 Length 3.85m including frame
Length 4.95m including ramp
Width 1.9m
Height 2.74m

**Completely self-contained. Just needs 13 amp power supply
---